Howdy and happy Friday! Today I'm going to bypass the photography again and talk about a couple of other blogs I like to visit.
First up:
Indexed
. This blog is awesome. It cracks me up. Here's why:
Hilarious, yes? I definitely think so.
All righty, the next blog that I must tell you about this week is
The Dairi Burger
. The writer of this blog re-explores young girls' favorites such as
Sweet Valley High
and
Baby-Sitter's Club
. It is yet another die-laughing blog (written in the same satirical vein as
BSC Headquarters
) that you (yes, you) must visit.
Perhaps the best part of this blog is that she sometimes makes
LOLcat
-type captions for book covers. Check it out: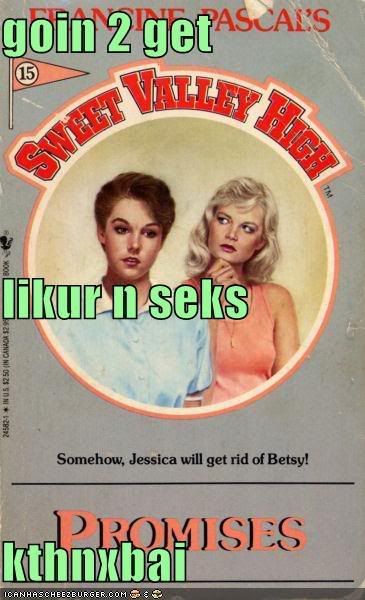 Because of this blog, I've started stocking up on Sweet Valley High and Christopher Pike books for summer reading. Let's face it: I can't be bothered to read anything difficult for fun this summer. It's just not going to happen.
Oh, and my teaching today went totally fabulously. I also turned in my proposal. For the time being, all is right with the world. I hopefully will have some time to blog about the experience this weekend. It really had a wonderfully positive effect on me. Thanks for believing in me, interpeeps.